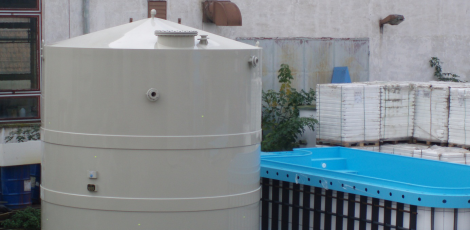 Plastic tanks and custom-type products
The other products made of plastic produced by our company are plastic tanks of various shapes - series as well as custom made tanks, sedimentation tanks, plastic tanks for chemical and food industry. We also produce additional equipment for sewage treatment plants such as specific shafts, sand filters.
Plastic tanks and custom-type products
Reservoirs

They are designed as a three-chamber tank capacity for 5-12 people. Tanks are made of polypropylene welding plates and the wall elements in design rectangular, oval or round.

Sedimentation tanks

Plastic sedimentation tanks are mostly rectangular tanks designed to capture different kinds of polluted waters and subsequent separation of sludge.
Sand filter

Sand filter is used as the third stage of wastewater treatment. It is installed at a sewage treatment plant or septic tank. It is made of polypropylene material.

Specific shafts

Specific shaft is used to measure the quantity and sampling of waste water flowing from such wastewater treatment plant. Specific shaft is based on the principle of Thomson spillway.
Water tanks

Plastic tanks rainwater tanks for irrigation systems, storage tanks for swimming pool technology, reservoirs of drinking water.

Atypical custom-type tanks

It is a device for the chemical, construction and automotive degreasing and pickling baths, exhaust pipes and other technological devices.